Simon Says -- Fun Soccer Drill
Simon Says is a fun soccer drill for the young soccer player. Have fun with soccer!
The Simon Says soccer drill is a fun soccer drill for players ages U3 to U6 and focuses on basic dribbling skills to maintain possession and dribble while listening and following instructions from the coach. The #1 rule of this drill is to HAVE FUN!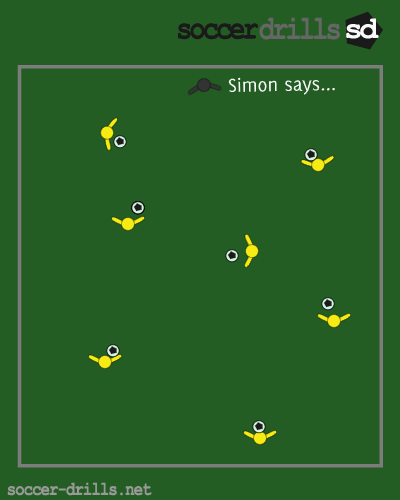 Setup
Use a small space on your practice field—no need to set borders at this time.
Each player needs a ball.
Instructions
Using the space on your soccer practice field, have the players "free-dribble" anywhere they want to go.
Instruct the players to listen and follow instructions as the coach give them, but ONLY when the coach says "Simon Says" before the command.
Use commands such as: "Simon Says Freeze", "Simon Says, put your knee on the ball", "Simon Says, put your head on the ball", "Simon Says, put your belly on the ball", "Simon Says, put your booty on the ball", etc.
Use some of the commands above without saying "Simon Says."
If you want a bit of a competition, the last player standing wins. Don't make players sit out long. Keep them in and getting as many touches as possible.
Coaching Points
This should be a fun soccer drill, so...
Have fun!
Have Fun!
HAVE FUN!
Top Soccer Drills
Browse our fun youth soccer drills for kids to get ideas for your next soccer practice.
Browse Soccer Drills
Soccer Formations
Soccer Positionss