Soccer Crab Monsters Game
Soccer crab monsters is a fun soccer drill to focus on beginner dribbling technique and having FUN!
The objective of the Soccer Crab Monsters fun soccer drill is to focus on dribbling technique with minimal opposition and, most importantly, to have FUN!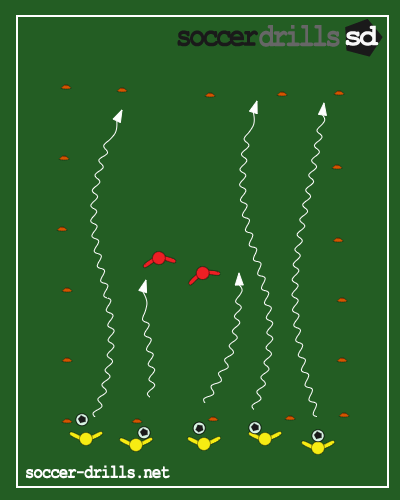 Setup
Create a channel that is approximately 20x40 yards.
Designate one player to begin as the crab.
With a ball each, the remaining players start on one end of the channel.
The crab gets into the "crab-walk" position in the middle of the grid.
Instructions
On the coaches command, the dribbling players attempt to dribble to the other side of the channel while avoiding the crab.
While crab-walking, the crab attempts to steal the ball from the dribblers and kick it out of the area. If the crab is successful, the dribbler becomes a crab along with the existing crabs.
The last dribbler standing wins the game.
Coaching Points
Since we are starting to introduce pressure while dribbling, have the players:
Keep their eyes up to avoid running into the crab
Keep the ball close for easier maneuverability.
Maintain composure
Touch the ball with all parts of the foot: shoelaces, inside, outside, and bottom.
Top Soccer Drills
Browse our fun youth soccer drills for kids to get ideas for your next soccer practice.
Browse Soccer Drills
Soccer Formations
Soccer Positionss